Solid Silver 60s Tour 2006


DAve Dee, Dozy, Beaky, Mick & Tich
February 26th to May 7th 2006
A wrap-up of what happened - by Sandy
[please be patient, aprox. 3 min. loading time now (unless you´re on broadband) - click on the pictures to enlarge]
Please also see the Thank You Note from the Band and read the full concert review of Southend-on-Sea
This page was put together since the tour had begun, all the while collecting notes, pictures etc for you - to give everyone who couldn´t attend or wanted to relive the show - an impression of what had been going on.
This tour is over now, but they are around for other concerts all the time, so look out and get yourself some tickets to watch their act live !
Now let´s see what I was able to get for you in the past weeks:
Foremost are the greetings Dave Dee, Dozy, Beaky, Mick & Tich sent over to their fans from during the tour - three postcards to let everyone know that they enjoyed this tour at least as much as all the fans. This was the last one to arrive: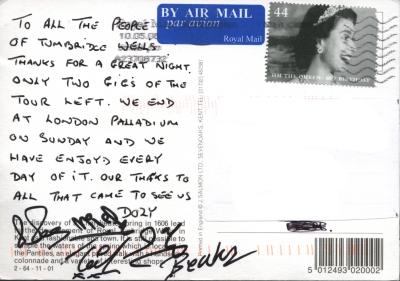 This second one came in from halfway through: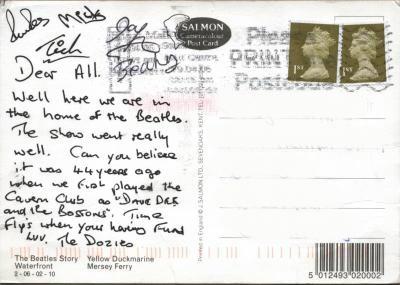 And this was the postcard they had sent from one of their first venues: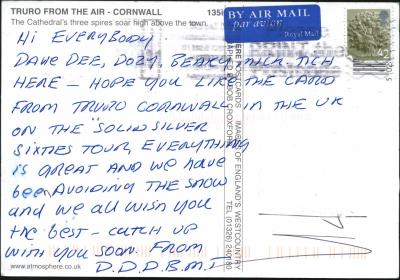 Always ahead of the snow
Avoiding the snow was one of their pastimes in the first two weeks - Mick told me this little anecdote: Wherever they played it turned colder and colder during the day. But in the mornings they got away from the venues and onto their way to the next without any weather trouble. Then they´d always hear in the news that where they played the night before it had started to snow. So all the time they were exactly 24 hours ahead of the snow !
But finally - just on the day he told me this, in Southend-on-Sea the snow closed in on them: just between the afternoon and evening shows we saw a few snow flurries outside whirling about !
Luckily the snow wasn´t much, but it was a good laugh...

The Cliffs Pavillon in Southend-on-Sea - where the snow finally got them...
Some more shots from Southend:

Left: Tich tuning his new PRS Custom 24 - now he has two more frets to solo on...
Right: Mick just before leaving the dressing room

Below: Dave trying to get Tich to push his guitar down... What a face
Fun for everyone
Not only the boys were having fun, but the fans got a good portion of that as well. The show itself - sandwiched between Wayne Fontana and PJ Proby / Gerry & the Pacemakers (who all presented a very nice show themselves) - was a lot of fun. The well-known banter, mostly coming from Dave was always appreciated - and what a laugh it was when during the evening show in Southend Dave was talking about the merchandise trying to sell the audience even TVs ! Well, he immediately countered his error by saying it would be ideal - for watching their DVDs...
Merchandise
During intermission the band was usually coming out to the merchandise stand to sign the CDs and DVDs the fans were buying (sorry, the TVs are currently sold out

) or the programmes or whatever they brought to have signed...
Left: Dave signing the "hat of the evening". Above: the five boys trying to sell some of their DVDs. Except for intermission, Gary (on the left) was the one handling the merchandise.
Here is an overview of the merchandise they had brought along:
- CD: The Legends of Dave Dee Dozy Beaky Mick & Tich - 10£
- CD: Unfinished Business - Dave Dee´s Solo Album - 15£
- DVD: Greatest Hits: A compilation of TV appearances - 15 £
This DVD is really a gem - covering not only all the hits, but also some that should have been - like "You´ve got me on the run" and "Stayin´ with it" - quite a typical 80s sound - yet one of John "Mick" Hatchmans first TV appearances - on shared lead vocals with Dave ! Other highlights are a private video recording during the release of "Zabadak" - 5 crazy boys joking around in Paris - and an interview with Dave at the time in the dressing room - with Tich powdering up for the show while smoking a cigarette right in the background ("Huh ? There was a camera ?") - you can relax: the cigarettes disappeared from the dressing rooms of today... not the powder puffs though...

Plus these three newly designed T-Shirts, all black:
- Standard-T with "Bend it bend it (just a little bit)" in red on the front "for all you naughty boys out there" - sizes S to XXL availlable - 10£
- Ladies-fit with "Touch me touch me" written with sparkling strass stones "across the right place for all you hot chicks" - sizes S to XL availlable - 10 £
- another hot Ladies-fit - with sparkling "Hold tight" - sizes S to XL availlable - 10 £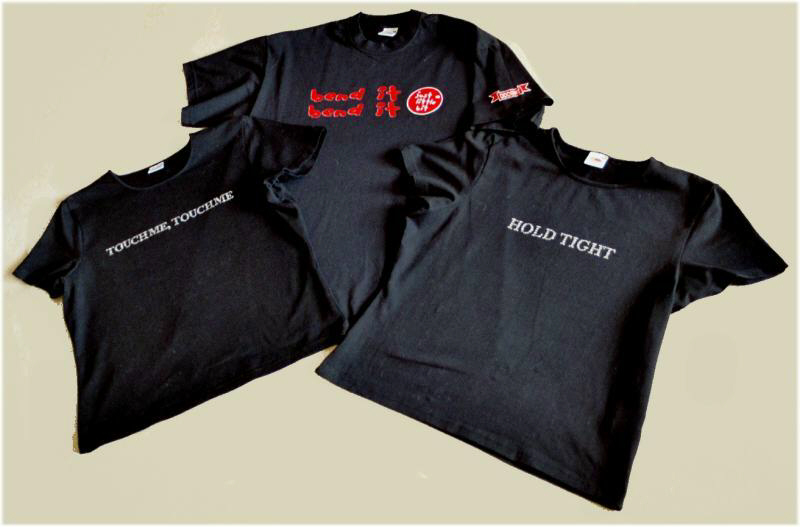 All items availlable at the merchandise stand at the show venues.
Webmaster´s note: Since I am sure you might want to request some of them directly, we will work out a way to offer them via the website soon, but until I announce this I can´t do anything yet.
Some more photos of the usual intervall-frenzy at the merchandise stand ? Here we go:
| | |
| --- | --- |
| "You better ask Dave about those TVs" | Always there for their fans |
| Quite a crowd - and somebody please buy a cashmere shirt for Dozys next birthday, huh ? | "So who of you sold that last TV ?" |
Did you notice the backdrop ?
As usual for the Solid Silver 60s tour, the backdrop of the stage was no usual black - they always have an artist create a nice scene, fitting to the 60. Due to all the build-up on stage it is not easy to photograph, but here are some shots that show off the creative ideas in it:
What else happened ? The little bits´n´pieces of the tour: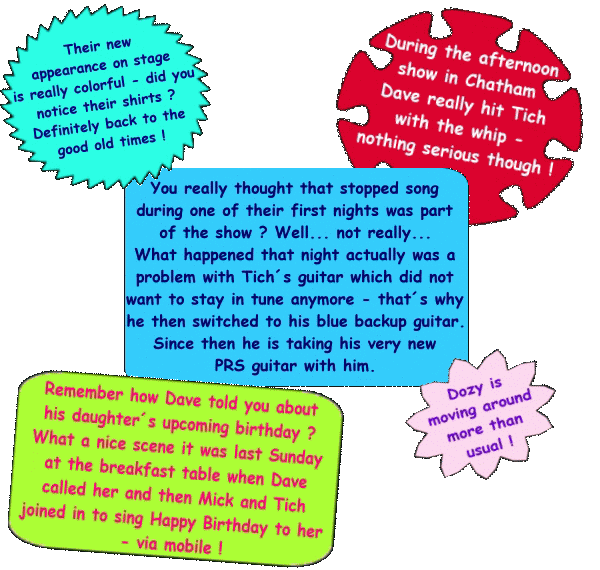 More Bits´n´pieces ? Sorry, not at the moment - to quote Mick: "It´s been quite boring"... I guess you´ll have to think yourself back in time and try to rip off their clothes on stage again... but then... that would be a shame - here are some shots of them in their new garments:
Feedback from the fans
For the boys it is always nice to see and read that the fans really like what they are presenting on stage this year. So I took the liberty to quote some of the feedbacks we received throughout the tour.
"We went to see the Solid Silver 60s Show last night 28/2/06 at the theatre in LLandudno, North Wales. Could you please pass on our thanks to DD,D,B,M&T for a fantastic night, and to say don't leave it so long next time. Thanks again." Chris
"Thank you for another great show in Grimsby and for taking the time to sign our programme and Dave's cd. Great cd. That was the second time we've met you." Margaret
"The show at the Royal Concert Hall in Glasgow was great and l look forward to the next one l think it is great that the band meet the fans and sign programs and C.d.'s in the hall it gives the people a chance to meet them thanks again." Harriet
"Fantastic show in Portsmouth come back soon.I LOVE DOZY he was so cute singing Zabadac on Top of the Pops 1967.I"m 54yrs but felt like 16 at the show. AWESOME" Elizabeth
"Brilliant concert in Aberdeen on Saturday. I've seen abd met you several times including your first visit in the 60's." Arthur
"We saw the show at Glasgow and Edinburgh last week and DDDBM&T were just brilliant - especially when Mick posed for photos, by lying across the front of the stage! It was a pleasure to meet them at the interval when they were out signing, and to have a photo taken with them. First time I've seen the whole band, but it won't be the last. I bought Dave's cd and I was very impressed - great songs and music. Hope he is keeping better and looking forward to seeing him in Spain in May. Regards" Janice
"on friday night 7th april worthing assembly hall was fantastic show i love dave dee dozy beaky mick and tich was great bands do come back again soon next year i wish dave dee well... fan since i was 13yrs... please come back on show again" Susan
"Saw you last night 13/4/06 in Harrogate. What a brilliant concert - wish you could have been on for longer. Please, please, pleeez come back again very soon. Love you all!!!" Jenny
And apart from the feedbacks we also received these photos from Cheryl:
During the show in Aberdeen...
And afterwards enjoying the company of Cheryl and her two friends Philomena and Sandra
As well as these two from the show in Tunbridge Wells from Wendy and Richard
"The boys very kindly agreed to have their photos taken with us at Tunbridge Wells...We thoroughly enjoyed the two shows we went to at Dartford and Tunbridge Wells." Wendy & Richard
"I would just like to say how much I enjoyed your performance in Cardiff on 20th April 2006.....you were very entertaining and have great vocal harmony....thanks also for taking the time to sign my programme in the interval...Hope it won't be too long until you are back in Cardiff again..." Sonya
"I have been a fan of DDDBMT since I was 9 years old and seeing them perform at Woking brought back many memories. I took my 10 year old daughter with me (at first under protest) but she even joined in with "Bend It" and "Zabadak". She was really impressed when DDDBMT sang "Pinball Wizard" (poor child thinks its a MacFly song). I have also shown her a DVD of DDDBMT and she loved the clip from the "Loos of England" she thinks Dozy is really cute. Anyway thanks to DDDBMT for a brilliant performance in Woking." Christine
"I went to see the solid silver 60's show with my mum at The Demontfort Hall in Leicester. I'm only 20 and hadn't really heard of the dozy's before I went but now I'm a HUGE fan! They were totally amazing on stage and their songs are brilliant! It was so nice that they came out to meet everyone in the interval.(Beaky is so handsome in the flesh!)... I'd just like to say to the Dozys that I think they are the best band on the planet and I hope they come back to Leicester soon!" Annie
And for all you sports fans Tony sent me these two pics, well fitting to the Snooker World Championship in Sheffield that was on at the time: The Dozies met John Virgo - UK Snooker Champion of 1979 and also known for his comedy and commenting talents:


Last but not least: Dave
Webmaster´s note: I left this part till the end of this page so you could first enjoy the fun that this tour has already put up - and especially because Dave doesn´t want you to alarmed. But he felt it be better to tell you about this instead of you winding through the rumours.
Dave has been experiencing some health problems since the second week of March. That´s why - you may have noticed - he was not as forceful during the last few songs as he used to. He wants you to know that he is taking care of this, he was already in the hospital and seeing a specialist, so no need to be concerned, everything is okay.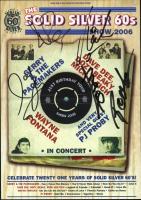 More about the tour: see the Thank You Note from the Band and read the full concert review of Southend-on-Sea
[Last update of this page: 15-June-06]