Solid Silver 60s Tour 2008
Dave Dee, Dozy, Beaky, Mick & Tich
February 20th to May 15th 2008
Some notes from the big tour through Great Britain - by Sandy
[This is just a start - more stories and pictures will be added here in the upcoming days, so make sure to come back soon - click on the pictures to enlarge]
I collected a few bits and pieces for all of you who want to relive the magic of these fabulous concerts all over Great Britain. Most of the shows have been sold-out and the band really enjoyed playing in full houses, whereas the audience was absolutely phantastic as well, very often giving standing ovations.
So HOLD TIGHT and enjoy !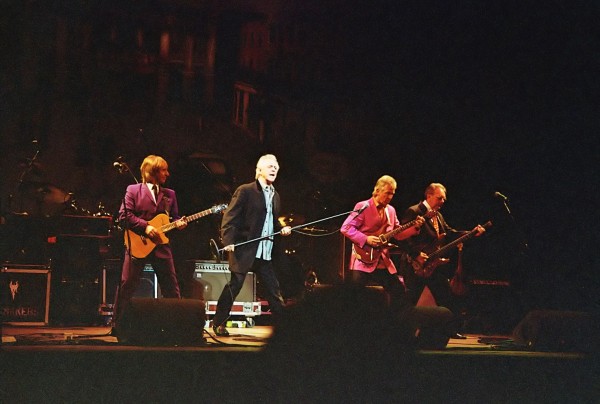 As most fans liked the postcards the boys sent from the last tour they thought they would just do that again. It took some time to receive the first two, but they did arrive:
No 1 - from Kingīs Lynn - where they played on March 18th
The second postcard from April 2nd is from a lovely place in Northern Wales called Llandudno
Live On Stage ...
Usually right after the Swinging Blue Jeans gave a nice rocky start, Dave Dee, Dozy, Beaky, Mick & Tich heated the audience up with an exuberant performance and lots of fun. They did feel the need to have a different starter as usual this time - and they already received many questions as to why they donīt play Hideaway nowadays. So I asked as well, and they said that apart from the idea to change the beginning of their show they also wanted to play some other songs as well - since many fans keep asking for songs they donīt usually play live or at least havenīt for quite some time. But as they donīt have more playing time on stage, for any song added to the list, another would have to be dropped. You canīt always make everyone happy - but they hope that you welcomed the addition of The Wreck of the Antoinette and others for this yearīs tour.
Left: Dave during "You keep me hanging on"

Of course they also played the biggest hit:

Legend of Xanadu
| | | |
| --- | --- | --- |
| Dave and Tich enjoying the audience | Bend it is always one of the songs the fans enjoy most live - probably because they have to sing along | Beaky playing timbales on "Save me" |
In the Intervall ...
For the band it is always great fun to head out towards the Merchandise stand right after their performance to meet some of the delighted fans and to sign the tour programme or even better their CD released early March this year - the BBC Sessions double CD:


It is a fabulous compilation of all the live sessions DDDBM&T spent at the BBC during the 60s and early 70s - with all of their hits, many of the most favored songs and some rare gems not to be found on any of their regular albums. So make sure to get hold of this one ! But be sure - the boys love to sign the old original vinyl just the same - as it happened in Leeds when one of the fans turned up with a pile of old LPs.
Apart from this Double-CD the fans were able to buy a nice tour-programme - with a couple of great photos of DDDBM&T and as usual some information about the tour and all the performing bands.
It was also another chance for the fans to pick up a Bend it or lady-fit Touch Me Touch me T-shirt, which had been popular since the 2006 tour. The boys really love to see those sexy Touch me-Shirts on you !
And of course you could buy the Greatest Hits-DVD or Dave Deeīs Solo-Album Unfinished Business, all of which the band gladly signed if you had the patience to wait in the long queue.
So what else was new ? Even more sophisticated clothes ! Guess what - Dave: "Beaky had been creative for once !"
It was actually his idea to go onstage wearing a tie ! Seems that playing in such beautiful theatres like I have seen in Leeds makes them want to fit in even more - and I must say it looks really great !
He saw those suits in a shop on Carnaby Street and just could not resist. Brilliant idea ! Keep īem coming !
But it was not always the band who made the fans happy, sometimes it was vice versa - and the sight of a familiar face would make the boys happy, or a rare memorabilia to be signed - or - as happened in Leeds - a nicely written poem which brightened the day: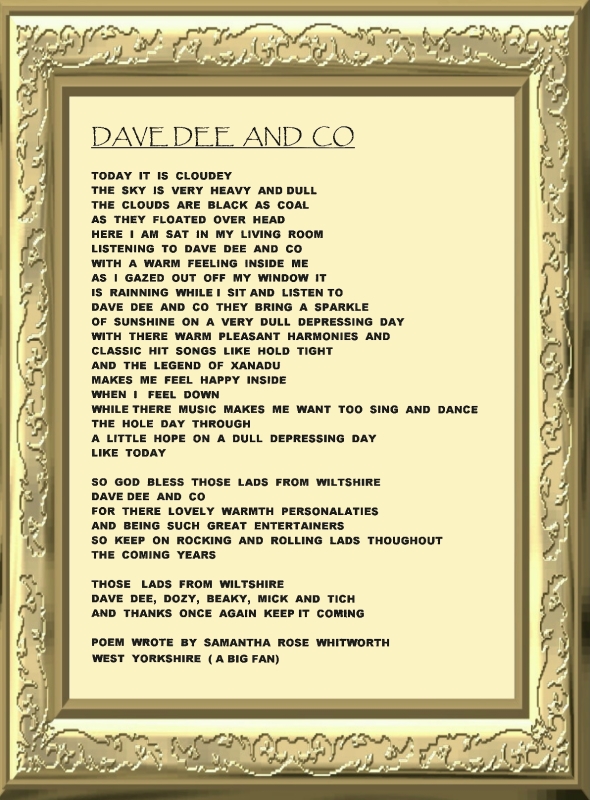 Just a couple of days after I got back from GB the third postcard lay in my mailbox waiting for the fans..
And of course the band had already received lots of feedback from their loyal fans:
"What a fantastic set from you all last night at Chatham on the Solid Silver 60's. Never mind about the rest You should have had top billing. We really only came to see you all. Loved Stairway to Heaven and Pinball Wizard Great! Keep it up and also the Wreck of the Antionette Great to hear that again at long last. Come back to Chatham very soon PLEASE." - Angie and Barry
"Hi can you please pass my thanks on to the band, I was at the Solid 60's show at Nottingham Royal Concert Hall on the 26th March. Hearing them play live showed me how much modern music has lost...... and the way the group interacted with the crowed was super. Fab show which we enjoyed so much we have booked to see them again in Derby in May. Many thanks" - Richard
" Saw the guys in Bournemouth last night just want to say they were amazing (I last saw them at the Leas Cliff in Folkstone when I was 16!) My 9 year old daughter was so overjoyed when they signed her T-shirt and we were able to chat to them. Thanks for a very memorable evening. " - Clare
" Thank you for a wonderful performance tonight in Wolverhampton. Superb. Keep going for as long as you can you still sound as good as ever " - Gary and Elaine
" Last night (March 20) we went to the New Theatre Oxford to The Solid Silver 60s. I would just want to say what a fantastic show and it took us right back to our youth! Keep up the good work. looking forward to seeing the next one! xxx " - Lorna
" Went to see the show last night and it was FAB!!! How do you guys keep up the pace, you obviously love what you do and we will keep coming to see you as long as you keep going. Makes todays pop stars look like amateurs. You canīt beat the sixties music and I feel priveledged to have been a teenager at that time. My kids all loves sixties stuff too and my grandkids hear it all the time " - Pam
April 19th - another Postcard just came in, written by Tich

*** top ***


[Last update of this page: 21-September-08]